28/02/2007
Under Construction

Under Construction

read more
3/12/2006
The celebration of Madonna in Samothraki

The biggest fest of the island. It is celebrated in the mainland with music, dance and food till late at night.

read more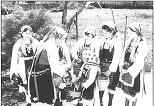 28/02/2007
Lazarines

A custom performed on the Saturday of Lazaros [before the Vagia Sunday in Easter time ??Vagia? means ?bay leaves?]. A team of girls is wandering from house to house singing the Lazaros carols.

read more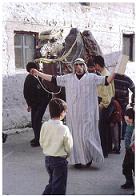 2/10/2006
Camel

This custom is performed at Petrousa -prefecture of Drama- on the 7th and 8th of January. The feigned camel along with the men?s group performs the ritual which climaxes with the virtual seeding and harvest and the saritirical representation of local marriage. At Feres, Evros, it coincides with the celebration of carnival. Camel is the protagonist of the last Sunday of carnival.

read more
16/11/2009
Under Construction

Under Construction

read more
16/11/2009
Under Construction

Under Construction

read more
16/11/2009
Under Construction

Under Construction

read more
16/11/2009
Under Construction

Under Construction

read more