The Court of Justice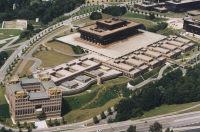 The Court of Justice, located in Luxembourg, is the Community's "Supreme Court". It ensures that the treaties are interpreted and applied correctly by other EU institutions and by the member states.
The Court comprises 15 judges, one from each member state, appointed for renewable terms of six years.
Judgements of the Court in the field of EC law are binding on EU institutions, member states, national courts, companies and private citizens, and overrule those of national courts.
Since 1988 a Court of First Instance, consisting of 15 members, has assisted the Court of Justice. This court has power to hear actions brought by EU officials, competition and coal and steel cases, and actions for damages. Its decisions are subject to appeal to the Court of Justice on points of law only.